There's a new monster in town, in my apartment currently wreaking havoc, and that's Burton!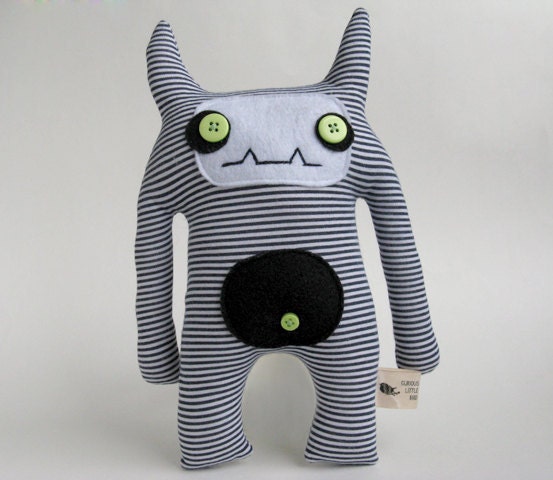 He's one of my brand new collections, a collection I call Cotton 'n Button monsters. This is a series of monsters that I have created which are aimed at my target customers, adults. I'm sure they'll be a hit with kids, but they're not safe for anyone younger than 5 years of age, of course.
This particular stripey guy is named Burton because he's a little Tim Burton-esque, with a touch of Beetlejuice and Edward Scissorhands. He's the goth child of all three of these movie styles, with a similarity to his furry monster relatives. Burton is a troublemaker, so beware when adopting him! He's been known to cause havoc! I've caught him knocking over a mug (thankfully empty), rooting through purses, and throwing pieces of paper. He simply wants to show you how awesome he is!
Here is Burton trying to get into my glass of water!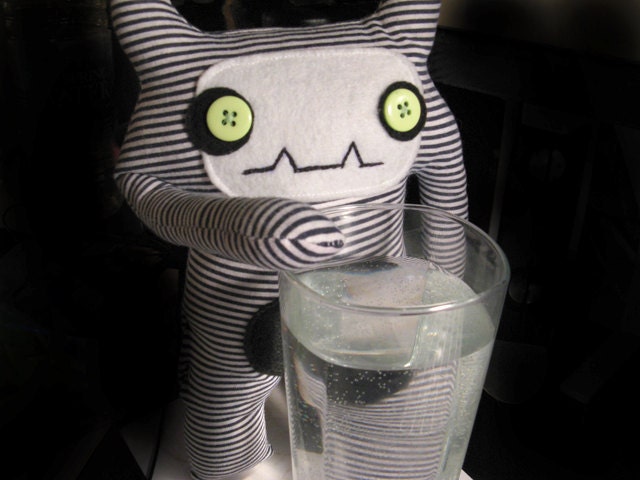 The glass was full, so thankfully he just got a little wet is all.
I've also made siblings for Burton. They're still in the 'need to be stuffed' phase. The reason being is, seeing as I'm a brand new entrepreneur with little to no start up resources, I haven't yet been to my stuffing supplier here in Montreal. I have made several phone calls to the companies in question, it's just a matter of going up there to buy the stuff. Soon, very soon. I have monsters I want to send to the STUFFED magazine at the end of the month, and other guys I'll be making for the upcoming Valentine day fair in February.
Here's some photos :)
Burton's almost twin on the left, a wacky patterned guy in the middle, and on the right he's made out of fabric that says "How To Stop Smoking" on it. Totally hilarious, and not for kids he is. ;)
Middle guy is made out of some crazy pink pockets I found on this gaudy shirt. He's bright pink on the back. The one on the right has a better photo just below.
This pretty girly monster is made out of some fancy patterned denim, and has a furry belly with a navel piercing. She's fancy!
I'm hoping that they'll be really popular, because I really enjoy making these guys. ;)